Hardwood Flooring in Williston, VT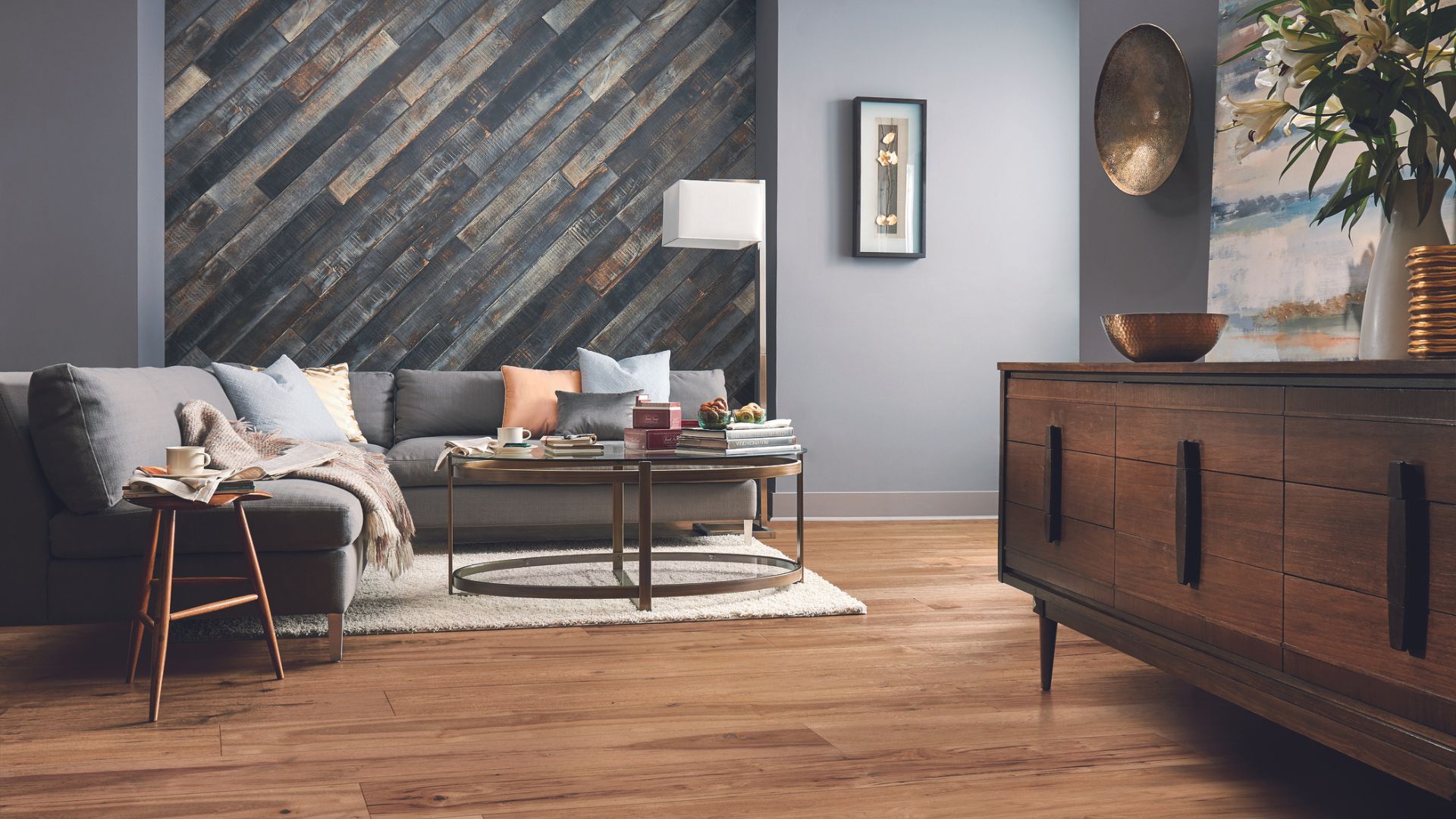 Embrace the timeless beauty of hardwood floors with Flooring America in Williston, VT. Our curated selection of hardwood flooring options radiates natural warmth and enduring charm.
Step into our captivating showroom to discover the perfect hardwood to bring your design dreams to life. From the exquisite beveled acacia to the rustic hand-scraped hickory and the airy wide-plank white-washed oak, our dedicated flooring specialists are ready to help you find the perfect match for your style and budget.
As your local flooring experts and proud affiliates of Flooring America, we're thrilled to offer you exclusive access to premier manufacturers at unbeatable prices. We understand the delicate balance between budget-consciousness and top-tier quality, and we're here to guide you through your hardwood journey.
Elevate your space with the natural allure of hardwood flooring. At Flooring America in Williston, we're committed to turning houses into warm and welcoming homes, one exceptional hardwood floor at a time.
Benefits of Hardwood Flooring
Hardwood flooring offers many advantages that combine style, durability, and ease of maintenance. Here's why hardwood floors are a fantastic choice for your Williston home:
Timeless elegance: Hardwood floors bring your home a classic and timeless charm. Their natural beauty never goes out of style, creating a warm and inviting atmosphere in any room.
Long-lasting durability: Hardwood is known for its exceptional durability. With proper care, hardwood floors can last for generations, making them a worthwhile investment.
Variety of styles: Hardwood comes in various styles, colors, and finishes to match any home aesthetic.
Easy to clean and maintain: Hardwood floors are a breeze to clean and maintain. Regular sweeping and occasional mopping are all needed to keep them looking their best.
Improved indoor air quality: Hardwood floors don't trap allergens and dust like carpets, making them a healthier choice for those with allergies.
Enhanced property value: Installing hardwood flooring can increase the value of your home. Its timeless appeal and durability are attractive to potential buyers.
Versatile: Hardwood can be used in various rooms throughout your home, from living areas to bedrooms and even kitchens.
Ageless appeal: As hardwood floors age, they develop a unique patina that adds character and beauty, making them even more charming over time.
How to Choose the Right Hardwood for Your Home
When choosing hardwood floors for your home, there are a few factors you need to consider:
The type of wood: Different types of wood have different properties, such as hardness, color, and grain pattern. Choose a wood appropriate for your area's climate and the level of traffic the floor will receive.
The style of your home: Hardwood flooring can be a classic or modern addition. Consider the style of your furniture and other décor when choosing a wood species and finish.
Your budget: Hardwood flooring can range in price from affordable to high-end. Set a budget before you start shopping so that you don't overspend.
Compatibility with your lifestyle: If you have kids, pets, or a busy household, choose a hardwood that can stand up to the demands of your daily life. Some woods are more resistant to scratches and dents, making them ideal for active households.
By carefully considering these factors, you'll be equipped to select the perfect hardwood flooring that aligns with your aesthetic preferences and functional needs. Let your chosen hardwood floor enhance the beauty and functionality of your living spaces.
Types of Hardwood Floors
Discover the various hardwood flooring options at Flooring America. As the preferred choice for Williston homeowners, we only offer the finest hardwood flooring selections, including:
Solid Hardwood: Experience the timeless beauty of solid hardwood flooring. Each plank is crafted from a single piece of genuine hardwood, providing a natural and authentic look. With its sturdy construction, solid hardwood can withstand the test of time. You can choose from satin, matte, or gloss finishes to match your style. It's an excellent choice for bedrooms, living rooms, dining rooms, and hallways as long as proper care is taken to maintain longevity.
Engineered Hardwood: Engineered hardwood flooring uses multiple layers of wood with a premium hardwood veneer. This unique design offers enhanced durability and resistance to moisture, water, and humidity compared to solid hardwood. If you're considering below-grade installations with common dampness, engineered hardwood is an ideal choice. It's particularly suitable for kitchens, bathrooms, and basements, providing both style and practicality.
Professional Hardwood Flooring Installation
After you've chosen the perfect hardwood for your place, count on our team of expert installers to help with the final installation. You won't risk investing in an inexperienced installer's mistakes when installing your new hardwood floors. Our team of professionals can provide a smooth installation. Thanks to their brand awareness and product experience, they'll come prepared with the right tools and expertise to ensure a quick and effective installation.
If, for any reason, you are dissatisfied with your floors within 30 days of installation, we will replace your floors with a product of similar pricing for free. This is our Ultimate Confidence Guarantee, a promise to you that the best warranties back your floors, and we will ensure your satisfaction.



Contact us today or visit our showroom to peruse our hardwood collection and find stunning floors for your home. We offer Williston, Burlington, and Jericho, VT hardwood products and installation services.