Laminate Flooring in Williston, VT
Give your home a fresh new look with an upgrade to laminate flooring from Flooring America Vermont. Our Williston showroom features laminate samples that beautifully replicate the warm tones of hardwood and the elegant glimmer of marble, ceramic, or porcelain. Enjoy a full-service flooring remodel with our professional laminate installations. Whatever your needs, we will work with you to find your ideal laminate flooring solution! Visit our showroom in Williston, VT, today to get started!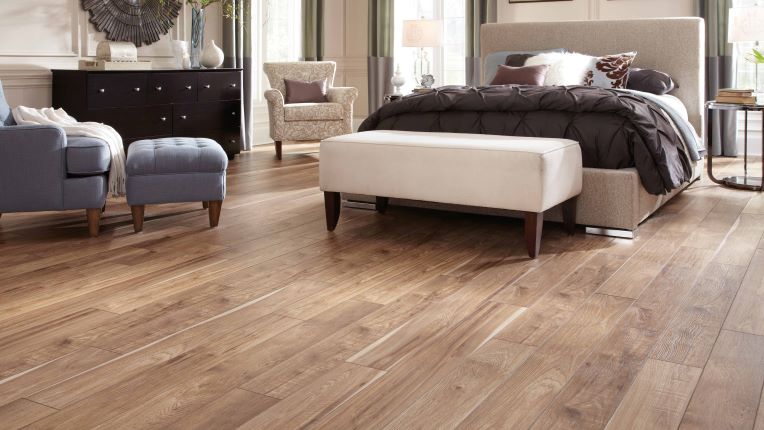 What is Laminate Flooring?
Laminate flooring represents a contemporary flooring solution crafted with four distinctive layers: the base, core, decorative, and wear layers. These four layers within the finished plank distinguish laminate flooring from other alternatives and collectively contribute to its aesthetics and durability:
The base and core layers, forming the heart of laminate flooring, provide structural density, making it robust against foot traffic and suitable for installation over various subfloor surfaces.
Subsequently, the decorative layer employs advanced technology to replicate a wide range of patterns and designs, adding a touch of sophistication to the flooring.
Lastly, the wear layer serves as a protective shield, safeguarding the decorative surface from scratches, fading, stains, water damage, and chips, ensuring the longevity and resilience of the flooring.
How is Laminate Flooring Made?
Laminate flooring is made using either the direct or high-pressure method to provide charm and resilience for your home. Individual layers are fused for improved density using the high-pressure method. This strategy is popular for commercial sites that expect high volumes of foot traffic. The direct-pressure method, on the other hand, produces conventional laminate selections for houses and general living areas.
What Type of Laminate Floor is Best for Your Vermont Property?
Selecting a laminate floor is simple with our friendly flooring specialists. We take the time to understand your functional needs, design goals, and budget to guide you toward your best-fit laminate. We offer a variety of laminate styles at our local flooring store, including:
Wood Look Laminate
At Flooring America Vermont, we bring our local customers our most sought-after hardwood looks with the water-resistant advantages of laminate. Never fear warping or water damage while enjoying the timeless charm of hardwood. You can sort between realistic textures such as enhanced wood grain, and embossed register, or browse through our custom styles including:
Ash Grove Oak
Juno Oak
Mountain Lane Oak
Rend Lake Oak
Valley Vista
Tile Look Laminate
Crafted to look like to beautiful texture of ceramic, porcelain, or stone tiles, you can achieve your desired style at a fraction of the cost. Additionally, laminate is much warmer underfoot, ideal for Vermont's frigid months. Whether you prefer the look of elegant marble or a simple neutral grey tile, we have a variety of tile look laminate floors to choose from at our Williston showroom.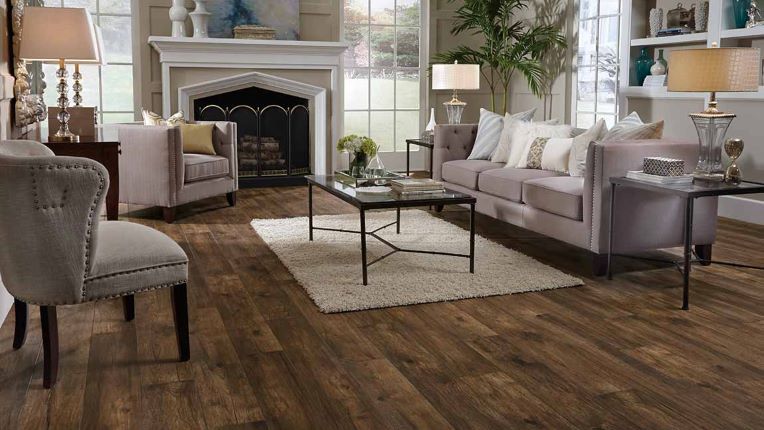 Why Vermont Customers Choose Laminate Flooring
Come visit our showroom and chat with the experts about what makes laminate an excellent choice for your home remodel. As a Flooring America customer, you'll find high-quality laminate brands in our inventory including Mannington, Mohawk, Shaw, Floorcraft, and more. With this flooring solution, resiliency and style seamlessly merge to create the perfect home aesthetic. Enjoy all of the following benefits of laminate flooring:
Adaptability for Any Space: Laminate flooring offers a fantastic choice for both residential and commercial environments due to its strength, durability, customizable options, and cost-effectiveness.
Water-Resistant: Our selection of laminate brands naturally repels liquids and resists moisture, making it a resilient flooring option ideal for spaces where moisture is a concern.
Comfort and Longevity: Laminate surfaces are softer than hardwood or tile, providing comfort while still being firm enough to endure heavy foot traffic, making them ideal for play areas for children and cozy spots for pets.
Kid and Pet Friendly: Don't worry about scuffs or claw marks from your family members, as laminate flooring is designed to withstand such wear and tear.
Easy Maintenance: Enjoy Vermont's natural beauty without fretting about tracking in dirt; laminate's non-porous surface makes it easy to clean, ensuring that dirt and debris are effortlessly removed.
Authentic Wood or Tile Aesthetics: Thanks to advancements in laminate production, our floors accurately replicate the textures, patterns, grains, and knots found in hardwood planks or tiles, delivering a genuine aesthetic.
Affordable Option: Among the most budget-friendly flooring choices available, laminate flooring allows you to achieve your desired design quality at a fraction of the cost.
Professional Laminate Flooring Installations
Flooring America Vermont prides itself on developing professional relationships with families and other clients. Our knowledgeable sales representatives and installation crew make it a priority to learn about your design goals and the physical space you're working with. You'll never worry about an uneven floor lay or gaps near walls and cabinetry when you partner with our installation technicians. We work to ensure that your purchase order is accurate, with flooring installation that fits around furnishings perfectly. Pick a time that works best for you, and a Flooring America installer will arrive with upgraded tools and machinery to complete the job.
We guarantee that your brand-new laminate wood or tile flooring is resistant to water damage and peeling as part of our commitment to client satisfaction. Your personal style and design ideas are always incorporated into the installation. Additionally, our team offers an Adore Your Floor Guarantee to ensure any repairs needed over your floor's lifespan are fully covered.

Contact us today to get started with your laminate flooring remodel! We proudly work with customers in Williston, Burlington, and Jericho, VT, as well as the surrounding communities.