Luxury Vinyl Flooring in Williston, VT
As you prepare to begin your flooring renovation plan, look no further than Flooring America in Williston, VT for all your flooring needs. For those unsure of which flooring type works best for their needs, consider a new set of luxury vinyl flooring for your home or office. As trained flooring professionals, our team can help with product selection, the setup of an initial consultation and measurements, and schedule a professional installation for an easy flooring renovation. Thanks to our 500-store national buying power, Flooring America has elevated to the Williston area's top flooring provider. Our vast selection of LVP and LVT flooring comes from high-quality manufacturers at an effective cost. Visit our Williston, VT, showroom to discuss your project and browse our luxury vinyl flooring selections!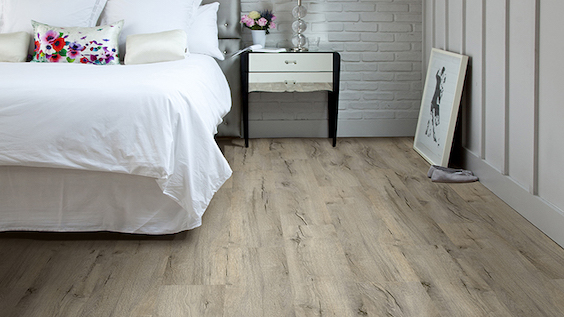 Your Guide to the Types of Luxury Vinyl Floors
Do you want the majestic look of natural stone? How about the timeless and warm appearance of wood? With luxury vinyl tiles or planks, you can have either of these appearances along with many others. Learn more about the types of luxury vinyl flooring available at our local flooring store:
Luxury Vinyl Tile (LVT)
Luxury vinyl tiles are made to resemble natural stone, porcelain, and ceramic tiles in appearance. You're promised the extra durability that makes luxury vinyl tiles such a popular choice. Additionally, vinyl is more comfortable to walk on than natural tiles, with a warmer more resilient feel you'll love in the middle of winter. Find a variety of gorgeous tile looks to match any room in your home. From the sleek look of earthy slate to the elegant appeal of marble, Flooring America has it all in our Williston showroom.
Luxury Vinyl Plank (LVP)
For the natural wood look, vinyl planks are the best way to go. Designed to look like real wood grain, luxury vinyl plank flooring is a cost-effective alternative to using real hardwood in your home. Luxury vinyl is also considerably easier to maintain and does not require special finishes or polishes to look amazing. Achieve the warmth of rich mahogany or lighter birch from one of our vinyl plank selections.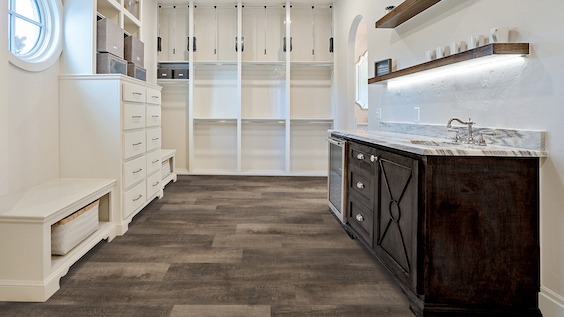 Advantages of Luxury Vinyl Flooring
When you shop luxury vinyl at Flooring America, you can rest assured you are receiving the full advantages of each product as well as excellent customer service. We carry stylish and trusted luxury vinyl flooring brands including Galvanite, Shaw, Mannington, and Mohawk. Each of these selections offers many performance and style benefits that our Vermont customers love, including:
Exquisite and Affordable Design Options
Available in tile or planking, luxury vinyl is the perfect choice for those craving an authentic look at a cost that won't break the bank. An extremely durable surface, luxury vinyl works great in any room and can be crafted with a design that mimics stone, hardwood, or marble.
Simple Care, Cleaning, and Maintenance
If you are looking for a flooring solution that is easy to maintain and provides superior protection against moisture and damage, then luxury vinyl is the right choice. This resilient flooring option is easy to clean, with many spills and messes wiped away simply with a cloth or mop.
Lasting Durability
Vinyl naturally blocks tough stains and is resistant to moisture, meaning it will keep its original beauty even after multiple spills and messes over its lifespan. This makes it a great option for moisture-prone bathrooms and basements, or households with pets and children. Unlike the thin sheet vinyl of decades past, modern upgrades have allowed for luxury vinyl to be produced in dense tiles or planks, protecting the vinyl itself, and the subfloor plan below. This protection also works to prevent water from getting under the flooring, which helps keep mold or mildew from forming.
Is Luxury Vinyl Flooring Waterproof?
While all our luxury vinyl products are incredibly water-resistant, some brands and selections are stronger than others. The many layers of our vinyl plank prevent moisture from seeping through to the subfloor, making this type a great choice for spaces like kitchens. Choose a vinyl floor plan that contains enhanced urethane for extra protection. For a plank that provides maximum waterproof stability, browse our collection by Downs H2O, which offers enhanced water-blocking technology throughout the entire plank.
Professional Luxury Vinyl Flooring Installations by Our Local Contractors
Allow our team to handle your installation after you've decided on a flooring solution that fits your needs. Our reliable team of expert technicians has installed every type of flooring we carry, and we'll make sure your new surface looks fantastic in your home. By letting our Flooring America team take care of your luxury vinyl flooring installation, you have peace of mind that your new surface fits perfectly into your home and that it will last for years.
Amateur craftsmanship can affect the functionality of your new flooring. Rather than attempt a DIY plan, you can rely on our Adore Your Floor Guarantee for a quality installation. If you are unhappy with our flooring installation job, give us a call within 30 days and we will gladly conduct any repairs free of charge.
Contact us today to find the luxury vinyl flooring of your dreams! We proudly serve Williston, Jericho, Burlington, VT, and the surrounding Chittenden County communities.