Tile Flooring in Williston, VT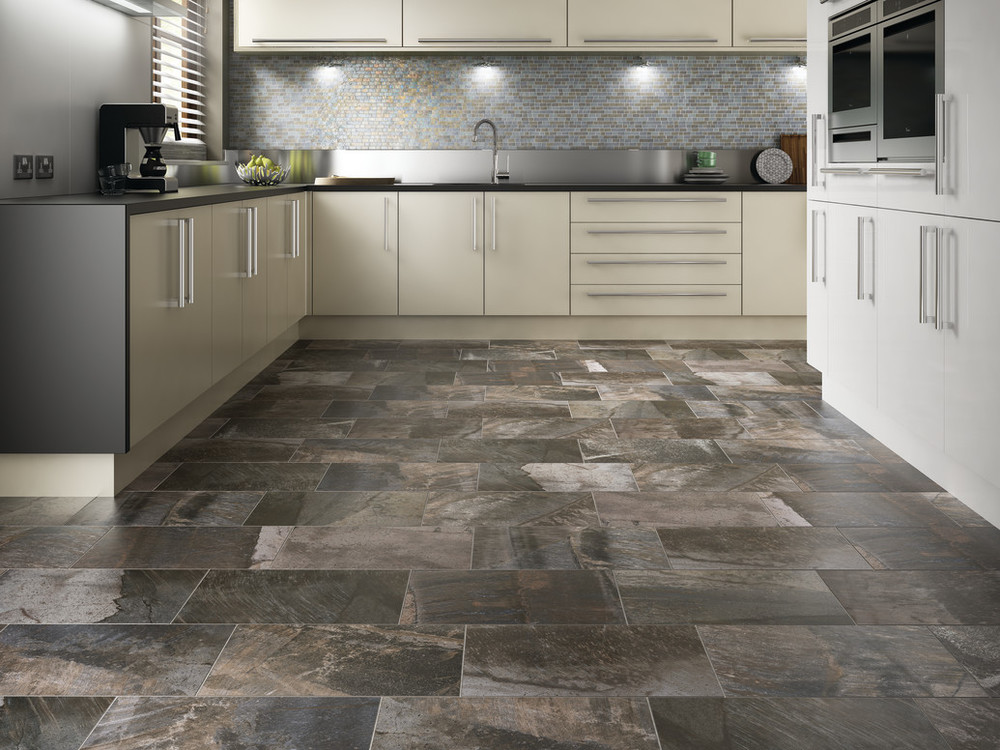 Transform your home with exquisite tile flooring that exudes pride. Elevate your space with Flooring America of Vermont's expert tile installation services. Explore endless design possibilities by selecting from our vast range of tiles in various sizes, shapes, colors, and textures, including the trendy wood-look tile option. Imagine the sophistication of a new mosaic backsplash, shower tiles, or kitchen floor. Our tile flooring suits every room, from your dining area to the backyard. Enhance your property's allure with our durable tile surfaces. Discover ceramic, porcelain, and stone tile options at our Williston, VT showroom, and embark on your tile renovation journey today! Elevate your property with timeless elegance.
Our Tile Selection
Explore our wide range of tile types at Flooring America of Vermont to discover the perfect fit for your project. Here's a breakdown of our tile offerings and tips to help you make the best choice:
Ceramic Tile:
Versatile and budget-friendly
Available in various colors, patterns, and textures
Ideal for walls, backsplashes, and light-traffic areas
Easy to clean and maintain
Great for homeowners seeking a cost-effective solution without compromising on style.
Porcelain Tile:
Highly durable and resistant to wear and moisture
Suitable for both indoor and outdoor applications
Mimics the look of natural stone or wood
Offers a wide array of design options
Perfect for areas with heavy foot traffic or exposure to the elements.
Natural Stone Tile:
Exudes timeless elegance and unique aesthetics
Each piece is one-of-a-kind with natural variations
Options include marble, granite, travertine, and slate
Adds a touch of luxury to any space
Ideal for homeowners looking for a distinctive, high-end appearance.
Wood-Look Tile:
Combines the beauty of wood with the durability of tile
Resistant to moisture, scratches, and stains
Available in various wood grain patterns and colors
Suitable for areas where hardwood may not be practical
Perfect for achieving a warm, rustic, or contemporary look.
Choosing the Best Tile Type:
Consider the Location: Determine if the tile will be used indoors or outdoors, in high-traffic or moisture-prone areas.
Style & Aesthetic: Consider the look and feel you want to achieve, whether it's modern, classic, rustic, or sleek.
Maintenance & Durability: Factor in your lifestyle and maintenance preferences. Some tiles are easier to clean and maintain than others.
Budget: Balance your design aspirations with budget constraints to find the right tile that fits your financial plan.
Expert Guidance: Our team is here to assist you in making an informed decision, considering all these factors.
Visit our Williston, VT showroom to explore these tile types up close, and let us help you choose the ideal tile solution to bring your vision to life.
Discover the Advantages of Tile
Stylish Variety: Elevate your space with a vast selection of patterns and colors for floors, showers, backsplashes, and walls.
Lasting Quality: Our expert installations ensure structural integrity, providing tile that endures for decades.
High-Quality Selection: Explore our fully-stocked showroom featuring trusted brands like Floorcraft, Mohawk, Shaw Floors, Happy Floors, Emser Tile, and more.
Waterproof: Protect your home against moisture damage with waterproof tile flooring.
Eco-Friendly: Choose an environmentally conscious option for your flooring needs.
Allergen Resistance: Say goodbye to mold and mildew concerns with tile's natural resistance.
Temperature Stable: Tile remains unwavering, unaffected by temperature fluctuations.
Budget-Friendly Choices: Find options that align with your financial plan.
Scratch & Stain Resistance: Enjoy flooring that stays pristine even in high-traffic areas.
Creative Design: Unleash your creativity with limitless style and design possibilities.
Home Value Enhancement: Increase your property's value with the timeless appeal of tile flooring.
Professional Tile Flooring Installation
At Flooring America of Vermont, we make achieving your dream flooring a breeze. Our professional tile installation service ensures your project's success from start to finish. With a team of skilled experts and the industry's best equipment, we guarantee that your floors will look exceptional and stand the test of time. Choose a convenient installation time, and leave the rest to us.
Here's why our professional installation is essential:
Skilled Professional Crew: Our experienced team manages your installation from start to finish, ensuring precision and excellence.
Industry-Leading Equipment: We employ top-of-the-line equipment and time-tested installation techniques for lasting and stunning results.
Longevity Assurance: Your newly installed tile flooring is designed to withstand the test of time, offering both durability and aesthetics.
Flexible Scheduling: Choose a convenient installation timeslot, and we'll accommodate your preferences seamlessly.
Ultimate Confidence Guarantee: Rest easy with our comprehensive warranty, providing coverage for the entire lifespan of your tile product. If you're ever dissatisfied with our work or your new backsplash or floor within 30 days, contact us, and we'll replace it with a similar product at no cost.
At Flooring America of Vermont, your satisfaction is our utmost priority. Ready to embark on your tile flooring journey?
Frequently Asked Questions (FAQs) About Tile
What types of tile are available?
We offer ceramic, porcelain, natural stone, and wood-look tile options for various styles and preferences.
Can I install tile over the existing flooring?
It's possible but only sometimes recommended. Please consult with our experts to determine the best approach based on your situation.
How do I maintain and clean tile flooring?
Regular sweeping and mopping with a mild detergent solution are usually sufficient. Avoid harsh chemicals that can damage the tile or grout.
Is tile flooring suitable for all rooms in my home?
Yes, tile is versatile and can be used in kitchens, bathrooms, living rooms, and even outdoors, depending on the type and style chosen.
Do you offer installation services?
We provide professional tile installation services backed by our Ultimate Confidence Guarantee for your peace of mind.


Contact us to bring your tile design visions to life with our decorative flooring. We proudly serve the residents of Williston, Bristol, Burlington, Grand Isle, Westford, Colchester, and Jericho, Vermont.