Wood Look Tile in Williston, VT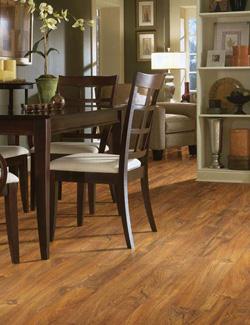 Revitalize any residential or commercial interior with the right type of flooring. When you visit our showroom in search of flooring and more, start a conversation with one of our design specialists who is invested in your success. Get the charm of wood with added resiliency and endurance when you choose wood look tile in Williston, VT. Do more with your décor when you start your design journey at Flooring America at the Carpetbagger.
Solid hardwood is a great choice for many of the rooms on the ground floor of your home. But increased moisture and spills cause wood planks to expand and contract. You need a flooring product that offers both functionality and appeal. When you sit down with a design professional, they can help you identify the right hardwood for the dining room and an innovative alternative for the basement.
Our selection of tile includes porcelain and ceramic products with the look and texture of real wood. Through advanced photo imaging, these tiles and planks are combined with a top layer that replicates the appearance of real wood. The floors will perform like tile and look as natural as the solid hardwood in the dining room.

The Demand for Tile
Tile has been an important part of decorating for centuries. A well-equipped installation contractor can cut ceramic into a variety of shapes and patterns. Porcelain is a denser type of tile that offers increased resistance to water making our wood plank porcelain tile an essential part of any basement finishing project.
Cover the walls of your interior with tile and enjoy the distinctive look of wood in places like your kitchen or protect the walls of your bathroom from the higher levels of moisture you can expect in a shower. Our wood plank ceramic tile can make any ordinary room something special for years to come.

Saving You Time and Money
Installation is an essential step in the decorating process, so choose a team that helps you protect the warranty on your flooring. We offer a comprehensive approach to flooring that includes project design and installation.
Broaden the reaches of your design plan with ceramic wood tile, and save time and money along the way. When you decorate with our porcelain wood tile, you get more floor than you ever thought possible. The water resistance this product provides depends on accurate grouting and sealing, so work with the team from Flooring America at the Carpetbagger that has the training needed to perfect your new installation.


Contact us today to learn about how our wood look tile can improve your entire design plan. We proudly serve customers in Williston, Bristol, Burlington, Grand Isle, and Westford, Vermont, and surrounding communities.